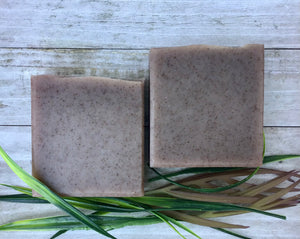 About: A fresh mix of bay leaf, fir needle, cedarwood, bergamot, and tobacco makes this soap absolutely amazing. Black walnut hull is included giving a light exfoliation along with a superior clean. You'll love this soap combined with the accompanying organic beard oil and organic beard balm.
Weight: 5.0 Oz. 
Ingredients: Organic Coconut Oil, Organic Sunflower Oil, Organic Sweet Almond Oil, Organic Castor Oil, Organic Sustainable Palm Oil, Organic Mango Butter, Kaolin Clay, Organic Black Walnut Hull, Sodium Hydroxide (not present in finished product), Distilled Water, Hypoallergenic Fragrance & Essential Oil Blend including Organic Fir Needle, Cedarwood and Bergamot Essential Oils
Phthalate Free
Paraben Free
Sulfate Free
Vegan
Cruelty Free
Gluten Free
Non-GMO
Organic Ingredients
Handmade
Tobacco & Bay Leaf Organic Handmade Soap
Smells divine!
Love love love this! The scent is warm and a tad spicy- perfect for man or woman! If it were a body lotion, I'd slather myself in it! 😄