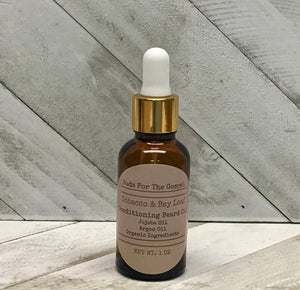 About: Who likes to have a scraggly, unkempt, rough looking beard? Most men don't! You want your beard to be nourished without the harsh chemicals while looking awesome! Tobacco & Bay Leaf Organic Conditioning Beard Oil is jam packed with moisturizing and nourishing oils high in Vitamin E which is great for keeping your beard smooth and skin dandruff free! It's a fresh mix of bay leaf, fir needle, cedarwood, bergamot, and tobacco.
The custom blend is formulated to:
Relieve beard itch
Soften your beard
Moisturize and heal dry, flaky skin
Repair dry, damaged hair
Tame fly aways
Promote healthy growth
Make your beard healthier feeling and looking and easier to manage
Designed to be lightweight and non-greasy. 
1oz/ 30ml amber dropper bottle
Formulated to be a soothing, yet manly fragrance
Relaxes and conditions the skin and hair follicles
Ingredients: Organic Jojoba Oil, Organic Argon Oil, Organic Apricot Kernel Oil, Organic Avocado Oil, Organic Sweet Almond Oil, Organic Rice Bran Oil, Organic Safflower Oil, Organic Sunflower Oil, Organic Wheat Germ Oil, Hypoallergenic Fragrance and Essential Oil Blend including Organic Fir Needle, Cedarwood, and Bergamot Essential Oils 
Use daily
Follow with Organic Tobacco & Bay Leaf Beard Balm to give you control that keeps your beard healthy and looking great throughout your day
Try both products with Organic Tobacco & Bay Leaf Facial Handmade Soap 
Very nice product!!
I use it, for the Beard, and for my hair! It smells, really nice!
Best Beard Oil Ever
I have tried all kinds of beard oil and various different smells. This one is by far my favorite oil and smell. I even get the most compliments while wearing this oil.
You will not go wrong with this. It also pares well with the matching beard butter. I use the butter in the areas I want to shape and the oil in the rest.