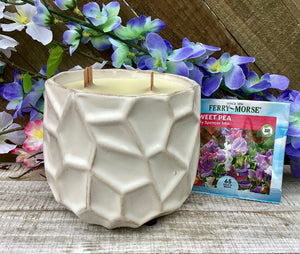 This aromatic candle is bursting with citrus aromas including Sweet Orange, Yuzu Lemon, Zesty Lime, and Crisp Bergamot. Made with 100% purified Beeswax and cedar wood wicks.
Hand poured into ceramic flower pots, once your candle has completely burned down, clean out wax and remove wick holder. Fill with fresh soil and plant accompanying flower seeds for a lovely Summer blooming plant to attract bees and butterflies and complete the circle of pollination.
Nothing here is wasted!
Top Note: Yuzu Lemon
Middle Notes: Sweet Orange
Bottom Notes: Zesty Lime & Bergamot
Weight: 19 Oz. (With ceramic vessel 34 Oz total weight)
 **Please note: When shipping during warmer temperatures, the wax may soften or melt slightly. This will not affect the wax quality.
Phthalate Free
Paraben Free
Petroleum/Petrolatum Free
Paraffin Free
Propylene Glycol Free
Gluten Free
Hand Poured