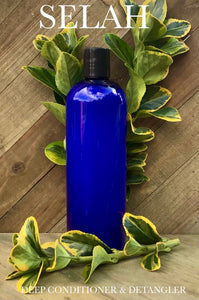 When you have dry, frizzy, unmanageable hair it needs a little something extra. Many products on the market for natural, curly, dry and/or damaged hair contain numerous harsh, unnecessary toxic additives. What our hair really needs is nourishment from natural, plant/fruit based oils and proteins. This product delivers those nutrients and gives hair shine, smoothness, manageability, and helps to detangle strands. Safe for color treated hair.
The list of amazing organic oils, extracts, and fruit proteins includes:
*Coconut Fruit Oil, *Coconut Oil, *Red Algae Extract, *Seaweed Extract, *Marshmallow Root Extract, *Papaya Fruit Extract, *Carrot Seed Oil, *Amla Fruit Oil, *Sweet Almond Oil, *Sugarcane Extract, *Olive Fruit Oil, *Avocado Oil, *Sunflower Seed Oil, *Macadamia Seed Oil, *Olive Oil, *Grapeseed Oil, *Argon Oil, *Jojoba Oil, *Rosemary Leaf Extract, *Apple Extract, *Lemon Extract, *Camellia Leaf Extract, *Filtered Fermented Radish Root, *Lemongrass Essential Oil, *Sweet Orange Essential Oil, *Litsea Essential Oil, *Frankincense Essential Oil, *Myrrh Essential Oil, *Spikenard Essential Oil, *Rose of Sharon Oil, *Hyssop Essential Oil, *Helichrysum Essential Oil
(*organic)
Other ingredients: Water, Benzoic Acid, Glycerin, Niacinamide, Cetyl Alcohol, Citric Acid, Sorbitol, Tocopherol, Linalool, Benzyl Alcohol, Potassium Hydroxide
Weight: 16 Oz.
Directions For Use: After shampooing, apply to hair incorporating from roots to ends of hair strands. Amount used will depend on preference and length/thickness of hair. For optimum conditioning, allow to sit for minimum of 3-5 minutes before rinsing. Can be used daily. Safe for color treated/permed/natural hair types.
Phthalate Free
Sulfate Free
Paraben Free
Gluten Free
Cruelty Free
Vegan
Propylene Glycol Free
Mineral Oil Free
Silicone Free
Non-GMO
Organic Ingredients
Handmade
Selah organic conditioner
Just like the shampoo and conditioner, this product is also high quality. It makes my hair soft and smells amazingly! The purity of the ingredients also make it feel so clean when applying it on my hair.
So good!!
The Deep Conditioner and Detangler is the best I have found. It makes my long naturally curly hair so easy to manage....LOVE IT!
Great Product
Love This-It detangles my hair perfectly! Highly Recommended to anyone to give this a try.
Beautiful Scent & Works Great with my hair
This conditioner smells soooo Beautiful! I think this scent would be my most favorite...This Conditioner helps maintain my frizziness and it keeps my hair under control🤗 This is a must for me!
HALLELUJAH!
LOVE the conditioner! As WELL as the soap! BOOTIFUL! 🧡 ty..