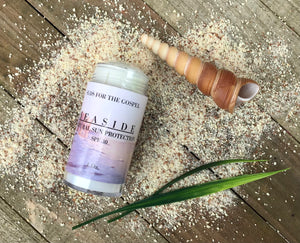 Sunscreens are important to use to avoid unnecessary sun burns and premature aging of skin. Unfortunately, the majority of sunscreens available on the market are packed with toxic ingredients. Why not have an effective sunscreen that's also natural? 
This is just the sunscreen for the job! This sun protection is blended with completely natural ingredients, several of which have a natural SPF factor, and uses non-nano zinc oxide as the main source of protection.
Why non-nano zinc oxide?
Zinc oxide is a mineral, and it's one of the main active ingredients in many mineral sunscreens. An active ingredient in sunscreen is the ingredient that actually does the work of protecting your skin from the sun's damaging rays.
Obviously, that's a very important job!
Zinc oxide sits on top of your skin (rather than soaking in, like chemical sunscreens do) and protects you by scattering, absorbing, and reflecting the sun's rays.
It can stand alone as a sunscreen because it is truly effective against UVA and UVB rays — this is called a "broad-spectrum blocker." Zin oxide isn't just effective at blocking the sun, it's also good for your skin!
The concern with these super-small nanoparticles is that they can find their way into your body by penetrating your skin and getting into your bloodstream. And while a nanoparticle will enter your bloodstream, a non-nano particle won't. For that reason, non-nano is considered safer.
Directions For Use: Before going outdoors, apply sunscreen on exposed areas of skin and lightly rub into skin. This sunscreen contains beeswax which is the ingredients making it water and sweat proof. However, if you're going to be swimming or strenuously working up a sweat while outside, it is best to apply sunscreen several times throughout the day. Sunscreen can be applied to sensitive areas like the face. Do avoid applying in eyes or mouth. Safe for all ages, including babies. Test small area to insure there are no allergic reactions before applying all over skin.
Weight: 1 Oz.
Ingredients: Organic Beeswax, Non-Nano Zinc Oxide, Organic Coconut Oil, Organic Olive Oil, Organic Shea Butter, Organic Jojoba Oil, Organic Lavender Essential Oil


Phthalate Free
Sulfate Free
Paraben Free
Paraffin Free
Mineral Oil Free
Gluten Free
Petroleum Free
Synthetic Fragrance Free
Cruelty Free
Propylene Glycol Free
Organic Ingredients
Handmade
So far, so good!
I didn't think I needed sunscreen as a dark-skinned woman until recently. I spent some time researching what would work best for my skin, and I'm glad I found this option. It must be well rubbed into the skin to reduce the white cast. After applying the sunscreen, I even it by using jojoba oil. I feel good knowing that the ingredients are safe for me and even better knowing that it's money well spent on excellent products and missions. So far, so good. Will recommend!
It works great for me! And I love how it's put in these little tube bottles..it's very convenient for me especially when I'm in a rush😊
Love It❤️
I Love this!! It has a Nice smell, it's 100% Natural, and it Protects my skin. And what a Clever idea to put them in these tubes...it's very convenient when I'm in a hurry🤗