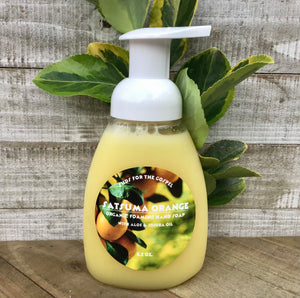 If you could out sunshine in a bottle, this would be it! Satsuma is a citrus fruit which looks and tastes like oranges, but it is seedless. This Satsuma scented foaming hand wash is like breathing in freshly peeled oranges. You'll delight in the energetic, fresh smell which gives off a bright, happy citrus aroma.
Weight: 8.5 Oz.
Ingredients: Organic Saponified Coconut, Olive and Jojoba Oils, Organic vegetable Glycerin, Organic Rosemary Extract, Organic Aloe Vera Juice, Fragrance Oil
* Some settling and/or separation may occur. Simply turn product upside down and lightly agitate to reconstitute ingredients. This product does not contain a preservative. Shelf life is 6-8 months if stored in a cool area.
This product is free from:
Phthalates
Parabens
Sulfates
Propylene Glycol
Gluten
Dyes
Mineral Oils
GMO's
Vegan, cruelty free and handmade.