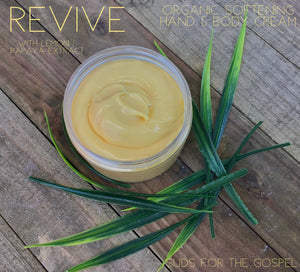 Revive your skin with this softening, ultra-moisturizing hand and body cream. Blended with Organic Lemon Extract, Papaya Extract and Vitamin C to brighten dull, uneven skin leaving it looking and feeling revived!
Weight: 4.5 Oz.
Organic Lemon Extract: Lemon is perfect for brightening and radiance. Citrus fruits are known for containing powerful vitamin C. This antioxidant is a powerhouse for brightening the skin, fighting signs of aging, and even helping to combat dry skin.
Organic Papaya Extract: The papain found in papaya is attributed with soothing skin irritations and its anti-inflammatory properties make it an ideal ingredient for acne and blemish-prone skin. Its natural and effective exfoliating properties brighten the skin by removing dead skin cells and flaky patches on the top layer of your skin. It too is loaded with the antioxidant Vitamin C.

Ingredients: Water, Vegetable Glycerin, Organic Shea Butter, Organic Soybean Oil, Organic Castor Seed Oil, Cetyl Alcohol,  Organic Vegetable Oil, Ascorbic Acid (Vitamin C), Organic Papaya Fruit Extract, Lemon Fruit Extract, False Daisy Extract, Moringa Seed Oil, Neem Leaf Extract, Tocopherol, Panthenol, Carrot Root Extract, Beta-Carotene, Xantham Gum, Benzoic Acid, Organic Lemon, Grapefruit Essential Oil Blend
Phthalate Free
Sulfate Free
Paraben Free
Mineral Oil Free
Petroleum Free
Gluten Free
Vegan
Cruelty Free
Non-GMO
Synthetic Fragrance Free
Organic Ingredients
Handmade
Revive Organic softening hand and body cream
This cream is one of absolute favorite products from SUDS FOR THE GOSPEL! The smell is divine and keeps my hands soft and smooth. It goes on without that greasy feeling. Thank you, Candace, for this wonderful product!