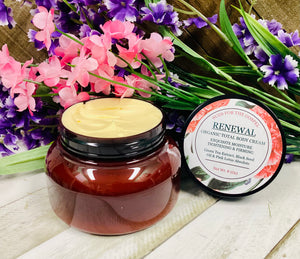 It's time to simplify your beauty regimen! RENEWAL Organic Total Body Anti-Aging, Tightening and Firming cream is meant to deliver exquisite moisture to your skin from head to toe.
This handcrafted cream delivers perfect moisture and promotes evening of skin tone, firming and elasticity of skin while also decreasing the appearance of fine lines and wrinkles.
These benefits come from carefully selected ingredients including:
Pink Lotus Absolute:
A rare and exotic essential oil which is associated with beauty and purity. Proven to improve skin elasticity and reduce the appearance of fine lines and wrinkles. Pink Lotus oil has natural alpha-hydroxy acids that help exfoliate the outer layer of skin, allowing younger cells to rise to the surface. Skin can more efficiently regenerate itself to heal and restore a youthful look.
Concentrated Green Tea Extract:
Helps diminish the signs of aging, calms irritation, evens out skin discoloration, diminishes the appearance of cellulite, soothes redness and swelling, repairs damage, exfoliates, decreases the appearance and occurrence of blackheads, eliminates dead skin, dirt, bacteria, and other pollutants on the skin's surface, decreases puffiness and reduces the appearance of dark under eye circles.
Organic Black Seed Oil:
Black seed oil has the ability to help distribute melanin within the skin which helps even skin pigmentation. It is antimicrobial and anti-inflammatory which assists skin that is acne prone.
Organic Cold Pressed Coffee Bean Oil:
Possesses anti-aging benefits due to its potent antioxidant properties which make it a powerhouse for keeping a youthful appearance. Coffee Bean Oil is packed with caffeine and essential fatty acids that will help build natural collagen and elastin. This will give younger-looking, smoother skin, and is known to be used especially to tighten skin around eyes. High amounts of Vitamin E and other essential nutrients help to soothe skin and minimize the appearance of cellulite.
Complete Ingredient List:
Distilled Water, Organic Aloe Vera, Organic Sunflower Oil, Organic Jojoba Oil, Organic Meadowfoam Oil, Organic Shea Butter, Organic Green Tea Extract, Organic Cold-Pressed Coffee Bean Oil, Organic Cold Pressed Rosehip Seed Oil, Organic Black Seed Oil, Organic Sea Buckthorn Oil, Emulsifying Wax, Stearic Acid, Cetyl Alcohol, Vegetable Glycerin, Palmitic Acid, Organic Vitamin E, Potassium Sorbate, Organic Pink Lotus Absolute, Rose Hydrosol, Organic Geranium Essential Oil, Organic Ylang Ylang Essential Oil, Vanilla Oil
Weight: 8 Oz.
Phthalate Free
Paraben Free
Sulfate Free
Mineral Oil Free
Petroleum/Petrolatum Free
Propylene Glycol Free
Vegan
Cruelty Free
Non-GMO
Gluten Free
Synthetic Dye and Fragrance Free
Organic Ingredients
Handmade