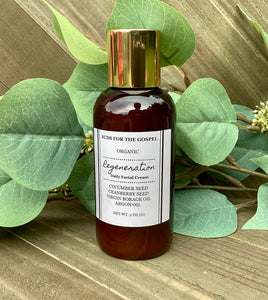 Regeneration Complete Facial Care products are non-toxic, use natural ingredients you recognize, are vegan and cruelty free, organic and handmade. They will not clog pores and are safe for even the most sensitive skin types.
Regeneration Organic Daily Facial Moisturizer:  Shea and Cocoa Seed Butters, Cucumber Seed Oil, Virgin Borage Oil, Bakuchiol (a natural form of Hyaluronic Acid), Cranberry Seed Oil, Argon Oil and Vitamin E help to nourish and protect your skin throughout the day. Each ingredient was chosen for its high antioxidant content and nourishing abilities. Scented lightly with Blue Lotus Essential Oil and Hibiscus Flower Extract. Free from parabens, sulfates, perfumes, dyes, colorants, mineral oils, petroleum/petrolatum, gluten. Vegan and cruelty free. Non-comedogenic (won't clog pores).
Weight: 2 Oz
Ingredients: Water, Organic Shea Butter, Cetearyl Alcohol, Organic Argon Oil, Organic Cocoa Seed Butter, Vitamin E, Vitamin A, Vitamin C, Bakuchiol (a natural form of Hyaluronic Acid), Organic Aloe Vera, Citric Acid, Emulsifying Wax, Potassium Sorbate, Organic Cranberry Seed Oil, Organic Jojoba Oil, Organic Cucumber Seed Oil, Hibiscus Flower Extract, Organic Virgin Borage Oil, Organic Blue Lotus Essential Oil, Organic Helichrysum Essential Oil
Smells Amazing!
Nice and light feeling on skin...If you love cucumbers, you'll definitely love the scent of this Moisturizer..It has a Fresh Cucumber scent🥰
My new favorite
I have tried many different face creams and oils, but this my favorite…by far! I love the scent, but even more than that I love how my skin feels when I use it. It makes my skin so soft and feels refreshing. I can almost feel my skin relaxing with pleasure as it absorbs this cream. This is my new go-to and I can't wait to try the night cream as well.