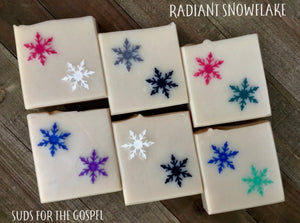 A seasonal blend of fresh pine needles, spicy cinnamon, vanilla, and cedarwood scents make up this radiant organic soap.
Weight: 4.5 Oz.
Ingredients: Organic Coconut Oil, Organic Sunflower Oil, Organic Sustainable Palm Oil, Organic Canola Oil, Organic Castor Oil, Organic Mango Butter, Sodium Hydroxide, Distilled Water, Hypoallergenic Fragrance Oil, Sustainably Sourced Mica
Phthalate Free
Paraben Free
Sulfate Free
Paraffin Free
Mineral Oil Free
Propylene Glycol Free
Cruelty Free
Vegan
Gluten Free
Organic Ingredients
Handmade
Love this soap!
I think this is one of my favorites. Bought it as part of a Christmas gift so I haven't used it but the scent is really nice and it's pretty!