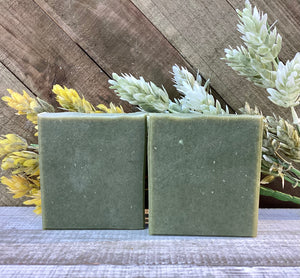 This invigorating yet calming blend of Japanese peppermint and patchouli essential oils makes for a clean and soothing bar of soap. Bright and woodsy, it's also made with goat milk which is known for its skin nourishing properties. This soap is colored with organic Spirulina which is a natural detoxifying form of algae.
Patchouli oil is useful for inflamed skin as it is a natural anti inflammatory. It is also known for its antibacterial and antifungal properties.
Japanese Peppermint is aromatic and is a natural astringent helpful for reducing the size of pores while also stimulating circulation which helps to oxygenate the skin.
Goat milk is high in fatty acids that help repair the skin barrier, probiotics to encourage the growth of normal skin flora, and vitamin A to help gently exfoliate. It is an excellent choice for sensitive skin.
Weight: 4.8 Oz.
Ingredients: Organic Coconut Oil, Organic Olive Oil, Organic Avocado Oil, Organic Canola Oil, Organic Castor Oil, Organic Mango and Shea Butters, Sodium Hydroxide, Distilled Water, Organic Patchouli & Japanese Peppermint Essential Oils, Organic Spirulina Powder
Phthalate Free
Paraben Free
Sulfate Free
Cruelty Free
Propylene Glycol Free
Synthetic Fragrance and Dye Free
Gluten Free
Non-GMO
Organic Ingredients
Handmade