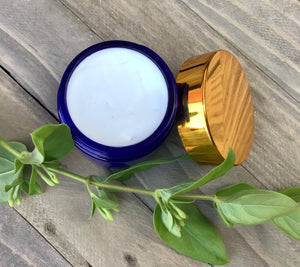 With powerful anti-inflammatory and antibacterial benefits, Petitgrain Essential Oil is a wonderful natural remedy to calm problematic skin. Whether it's rosacea, acne-induced irritation or even sunburn, this aromatic essential oil helps to soothe and heal your complexion.
This complete moisturizer is specially formulated for sensitive skin, acne, eczema and/or psoriasis. It is packed with amazing organic moisturizers including Shea butter, Moringa Oil, Boabab Oil, Pomegranate Seed Oil, and Petitgrain Essential Oil. Each of these ingredients was chosen for its ability to nourish and moisturize skin while still being gentle and non-comedogenic (won't clog pores).
This salve is very potent and a little goes a long way.
Weight: 4 Oz.
Ingredients: Organic Shea Butter, Organic Boabab Oil, Organic Moringa Oil, Organic Sweet Almond Oil, Organic Pomegranate Seed Oil, Emulsifying Wax, Organic Petitgrain Essential Oil, Organic Helichrysum Essential Oil, Organic Honeysuckle Oil
Directions For Use: After applying Intense Hydration Facial Mist Primer, apply a very small amount of Complete Organic Petitgrain Moisturizer to face using fingertips in an upward circular motion until absorbed. A little goes a long way!
This product does not contain preservatives. Store in cool, dry area. Shelf life is six months.
Phthalate Free
Paraben Free
Sulfate Free
Paraffin Free
Silicone Free
Petroleum Free
Propylene Glycol Free
Mineral Oil Free
Gluten Free
Vegan
Cruelty Free
Non-GMO
Non-Comedogenic
Organic Ingredients
Handmade
Excellent products and service
I have ordered soaps, salves, and lotions from Suds for the Gospel, and I have never been disappointed. High-quality, natural, beautiful products at affordable prices. The items are shipped quickly and carefully. I will definitely order again.
Love it!
It is helping clear up eczema.
Excellent
I love the face creams and soaps from Suds for the Gospel. They are high quality and most of all, my skin loves them.