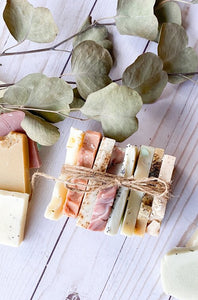 About: We don't want the odds and end pieces to feel left out, so we are making little bundles for your sampling enjoyment! All different sizes, shapes, colors, and scents come together for a fun soap buffet of sorts. They're exciting to try and they are a great price! Each bundle will contain 6-8 soap pieces, depending on size.
Weight: Will vary with each bundle. 


All soaps are free from:
Phthalates
Parabens
Sulfates
Paraffins
Gluten
Non-GMO
Organic Ingredients
Handmade
Yes please!!
When I couldn't decide, I landed here. So good! All them are so unique and smell wonderful. My 9 year old son found several he really likes too.
Repeat Purchase
I buy these often and and just lovvvve every soap in every bundle.
Don't even get me started on how Candace never fails to throw in extra goods that make me smile every. single. time!
If you're new to Suds for the Gospel, I highly recommend you start here. 😊
Sample Bundle
I liked every single soap i received!
This is a wonderful opportunity to test out soaps!