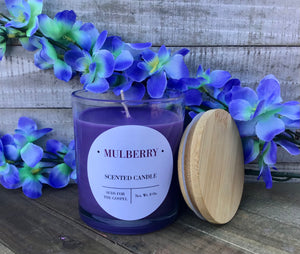 A pure essence blend of sparkling fresh mulberries, sweet pomegranate and soft pine. Highlighted with hints of eucalyptus, rose petals, and amber.
 Top notes: Sparkling Mulberry, Pomegranate
Middle notes: Pink Rose Petals, Eucalyptus Leaves
Base notes: Sweet Pine, Raspberry Vanilla, White Amber 
Made with an 80/20 Coconut-Soy Blend Wax and Clean Burning Fragrance.
*All candles are mixed with Clean Scents which means they exclude ingredients in fragrances which are harmful and toxic to our bodies. They are free from carcinogens, toxins, and other hazardous chemicals commonly found in fragrance oils.
Carcinogens Free:  These are materials known or thought to cause cancer. 
Mutagens Free:  Materials that change the DNA of a cell, harming the cell and causing diseases like cancer. 
Reproductive Toxins Free: Toxins that adversely affect reproductive organs and increase the risk of birth defects. 
Organ Toxins Free: These are toxins that can cause adverse effects or disease within specific bodily organs. 
Acute Toxins Free: Toxins that can cause adverse effects from a single exposure. Generally, this would be accidental exposure like spillage or ingestion.
This wax is paraben, phthalate and gluten-free.
 **Please note: When shipping during warmer temperatures, the wax may soften or melt slightly. This will not affect the wax quality.
Weight: 8 Oz. (With vessel 19 Oz total weight)
Phthalate Free
Paraben Free
Petroleum/Petrolatum Free
Paraffin Free
Propylene Glycol Free
Gluten Free
Hand Poured