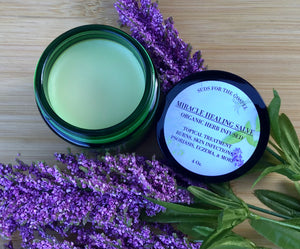 Herbal salves are wonderful things! They are convenient to use and very powerful. The combination of herbs, carriers oils and solidifies helps to deliver an easy to apply topical treatment for numerous skin issues.
Miracle Herbal Salve is formulated to assist in drawing out infection and healing. This salve is made to soothe and help heal mild burns, sunburn, abrasions, scrapes, suppurating sores, bruises, etc. 
Made with 100% natural and organic ingredients.
Directions For Use: Clean affected area before applying salve. Place small amount of solid product to affected area. Product will immediately begin to melt and be absorbed into skin.
Ingredients: Fresh Dried Organic Plants/Herbs of Comfrey Root, Labelia, Mullein, Oregon Grape, Plantain, Black Walnut Hull, Marshmallow, Red Clover, Skullcap, White Oak, Wormwood, Chaparral, Bay Leaf, Fenugreek, and Poke Root— Organic Castor Seed Oil, Organic Olive Oil, Organic Avocado Oil, Organic Soybean Oil, Organic Bees, Carnauba and Candelilla Waxes, Organic Helichrysum, Frankincense and Patchouli Essential Oils
*This product has a 6-8 month shelf life. Keep in a cool, dry place away from direct heat or light.
Phthalate Free
Paraben Free
Petrolatum & Petroleum Free
Sulfate Free
Cruelty Free
Non-GMO
Gluten Free
Propylene Glycol Free
Organic Ingredients
Handmade