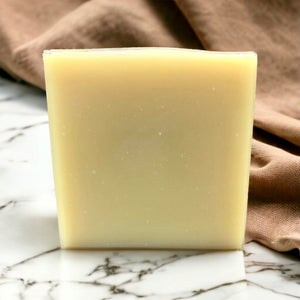 About: Lemon has hands down always been a favorite scent of mine. Refreshing. Clean. This lemongrass essential oil soap is not only fragrant, it is also healing. There are 14 nourishing oils and butters in my recipe! There have been several testimonials to the benefits of this soap. I hope you enjoy it!
Lemongrass is a fresh, citrusy scent with sweet undertones. One of the main components of lemongrass essential oil is citral, a compound found to act as an antimicrobial (a substance that destroys and suppresses the growth of microorganisms, including bacteria and fungi). Lemongrass essential oil also contains limonene, a compound shown to reduce inflammation and knock out bacteria.
**This soap is NOT gluten-free. This soap is NOT nut-free.
Weight : 4.85-5.10oz. Weights will vary as these are hand poured and hand cut.
Ingredients:  Organic Coconut Oil, Organic Sunflower Oil, Organic Sweet Almond Oil, Organic Sustainable Palm Oil,  Organic Castor Oil, Organic Mango Butter, Apricot Kernel Oil, Rice Bran Oil, Safflower Oil, Wheat Germ Oil, Sodium Hydroxide (lye), Distilled Water, Organic Lemongrass Essential Oil
Phthalate-Free
Paraben-Free
Sulfate Free
Vegan
Cruelty-Free
Organic Ingredients
Fast shipping and excellent products
Bought soaps for gifts and everyone was very happy with them and enjoyed the scents!
Lemongrass
Our satisfaction is beyond satisfying! The customer service is ALWAYS phenomenal
Lemongrass Soap
It smells wonderful and lathers well