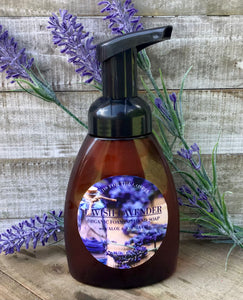 This moisturizing foaming hand soap is completely organic and contains 100% natural ingredients including the scent of organic lavender, cedar wood, and orange essential oils.
Weight: 8.5 Oz.
Ingredients: Organic Saponified Coconut, Olive and Jojoba Oils, Organic Vegetable Glycerin, Organic Rosemary Extract, Organic Aloe, Organic Lavender Essential Oil, Organic Cedarwood Essential Oil, Organic Orange Essential Oil
*Some settling and/or separation may occur. Simply turn product upside down and lightly agitate to reconstitute ingredients. This product does not contain a preservative. Shelf life is 6-8 months if stored in a cool area.
This organic product is free from:
Phthalates
Parabens
Sulfates
Gluten
Synthetic Fragrance
Dyes
Propylene Glycol
Mineral Oil
GMO's
It is also cruelty free, vegan, and handmade