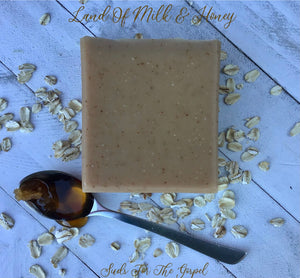 About: Nourish your skin with this softening and moisturizing soap made with skin-loving ingredients including Organic Flax Seed Oil, Organic Raw Honey, Organic Mango and Shea Butters, Organic Goat Milk and Gluten-Free Oats. 
Numbers 14:8_  If the Lord delight in us, then he will bring us into this land, and give it us; a land which floweth with milk and honey.
Weight: 4.5 Oz
Ingredients: Organic Coconut Oil, Organic Sunflower Oil, Organic Castor Oil, Organic Flax Seed Oil, Organic Mango Seed Butter, Organic Shea Butter, Sodium Hydroxide (not present in finished product), Organic Goat Milk, Distilled Water, Organic Raw Honey, Organic Oats, Hypoallergenic Fragrance Oil
Phthalate Free
Paraben Free
Sulfate Free
Cruelty Free
Gluten Free
Non-GMO
Organic Ingredients
Handmade
Land of Milk and Honey
Creamy and moisturizing, and it smells good .