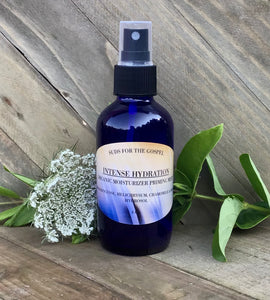 The organic facial mist primer is formulated to prep your skin before moisturizing. Simple, organic ingredients like Organic Frankincense, Helichrysum and Chamomile Hydrosols are used to nourish and revitalize your skin. 


Organic Frankincense Hydrosol:  A beautiful skin-healer that boasts anti-inflammatory, antibacterial and analgesic properties, and an added ability to tone and improve skin texture.  As Hydrosols are safer and gentler than pure Essential Oils, it is a great choice for people with sensitive systems, including children, the elderly and even pets.  Frankincense Hydrosol can be used daily as a refreshing skin-toning facial spray that will leave your skin with noticeable softer, more delicate texture.
Organic Helichrysum Hydrosol:  With rejuvenating and restorative properties, Helichrysum hydrosol skin benefits have many uses, including reducing the appearance of blemishes and wrinkles, providing a soothing sensation for the skin, and promoting a healthy glow.  It relieves inflammation, helps to maintain skin cell health, soothes sun damage like sunburn, reduces the appearance of wrinkles, heals and soothes acne, and reduces skin infections.
Organic Chamomile Hydrosol:  An excellent aid in the treatment of acne, eczema and psoriasis and exerts balance of natural skin oils (sebum).  It promotes new skin growth and is calming, anti-inflammatory and balancing.
Organic Rose Hydrosol: Rose hydrosol is the aromatic water that remains after steam-distilling of roses. While hydrosols have the same properties as essential oils, they are much more concentrated. Thanks to a high concentration of antioxidants, rose hydrosol has many potential benefits for skin including moisturizing, calming inflammation, balancing the pH of skin, minimizing pores, healing damaged skin, supporting aging skin, and replenishing dull, dehydrated skin. It is excellent for eczema and psoriasis.
Weight: 4 Fl. Oz.
Ingredients: Organic Frankincense Hydrosol, Organic Helichrysum Hydrosol, Organic Chamomile Hydrosol, Organic Rose Hydrosol, Organic Sandalwood Hydrosol
Directions For Use: After cleansing face with the Sensitive Skin Facial & Body Bar, gently shake bottle of mist primer and spray facial skin to lightly saturate skin. Allow to penetrate and then gently BLOT skin dry with a soft towel. Do not rub skin with towel after applying.
Phthalate Free
Paraben Free
Sulfate Free
Paraffin Free
Mineral Oil Free
Synthetic Fragrance Free
Propylene Glycol Free
Gluten Free
Vegan
Cruelty Free
Organic Ingredients
Handmade
So refreshing!
I love using this on my face, neck, and chest after I shower.
WOW! I LOVE THIS❤️
I've never had a Facial Mist Primer before, and I LOVE THIS!! It's smells soo Beautiful and it makes my face look Hydrated. I totally recommend this!!
Love it
I've never had a facial mister before. I like it. It smells and feels nice on my skin. The spray is a really fine mist.