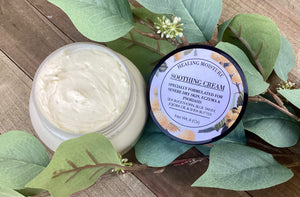 Severe dry skin, eczema and psoriasis require special attention and ingredients formulated to deeply nourish, moisturize and renew skin for healing. 
Healing Moisture Soothing Body Cream is formulated to provide the necessary nutritive, healing ingredients to help your skin be as healthy and comfortable as possible. This cream is non-comedogenic which means it won't clog pores.
Organic Sea Buckthorn Oil: Rich in antioxidants; Moisturizes skin while regulating skin hydration; Improves skin tone; Prevents moisture loss; Antibacterial; Anti-fungal; Anit-psoriatic.
Organic Blue Tansy Oil: Contains Camphor and Sabinene which are anti-inflammatory and help repair damaged skin.
Organic Hibiscus Flower Extract: Fights Aging Signs; Improves & Evens Skin Tone; Hydrates Skin; Cleanses Skin Pores; Tightens Open Skin Pores; Prevents Acne; Moisturizes Skin; Controls Inflammation.
Organic Jojoba Oil: Moisturizing; Skin Soothing; Anti-Inflammatory; Healing Properties; Naturally Antimicrobial.
Organic Shea Butter: Boosts Skin Moisture; Anti-Inflammatory Properties Soothe Skin; Rich In Antioxidants.
Weight: 8 Oz.
Ingredients: Distilled water, Organic AloeVera, Organic Sunflower Oil, Organic Safflower Oil, Organic Coconut Oil, Organic Olive Oil, Organic Jojoba Oil, Organic  Meadowfoam Oil, Stearic Acid, Soya Oil, Cetyl Alcohol, Emulsifying Wax, Vegetable Glycerin, Organic Shea Butter, Organic Hibiscus Flower Extract, Organic Sea Buckthorn Oil, Organic Blue Tansy Oil, Palmitic Acid, Vitamin E, Potassium Sorbate
Phthalate Free
Paraben Free
Sulfate Free
Vegan
Cruelty Free
Gluten Free
Mineral Oil Free
Petroleum/Petrolatum Free
Synthetic Dye & Fragrance Free
Gluten Free
Propylene Glycol Free
Organic Ingredients
Handmade