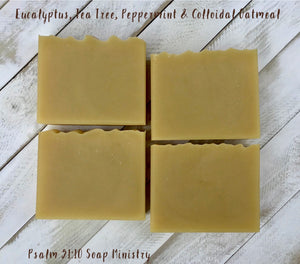 About: An energizing blend of eucalyptus, tea tree, peppermint mixed with colloidal oatmeal for a soothing and uplifting bathing experience.
Eucalyptus is known for its immune boosting properties and its ability to aid symptoms such as cough and clear sinus passages. Tea tree oil is a natural anti-inflammatory and antimicrobial oil which is known for helping such skin problems as psoriasis, eczema, and acne. It is shown to calm redness, inflammation, and swelling of skin. Peppermint oil is also antimicrobial and has antiviral properties. Finally, the colloidal oatmeal aids problem skin issues like eczema with its soothing properties.
Weight: 5.3-5.6 ounces    **weight varies slightly due to being hand poured**
Ingredients: Organic Coconut Oil, Olive oil, Sunflower oil, Organic Sweet Almond Oil , Organic Sustainable Palm Oil, Organic Cocoa Butter, Organic Shea Butter, Organic Castor Oil, Sodium Hydroxide (lye), Distilled Water,  Organic Eucalyptus/Tea Tree/Peppermint Essential Oils, Colloidal Oatmeal
Phthalate-Free
Paraben-Free
Sulfate Free
Vegan
Cruelty-Free
Organic Ingredients 
Gluten Free
Made in USA
Great body and facial soap
I love this soap. It works so well on my skin. It leaves my skin soft and no heavy perfume scent. My skin is hydrated and healthy feeling.
Highest rating!
We absolutely love this soap and are so grateful and thank the Father that He led us to this company/ministry! ♡