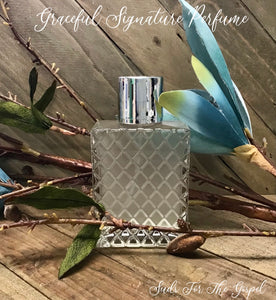 A luxurious perfume with scents of Mandarin Orange, Melon, Blackberry, and Violet Leaf comprising the top notes, followed by notes of Lavender, Jasmine, Lily of The Valley and finishing with Nectarine, Fresh Honey, Oak and Musk. Graceful Perfume is a pleasing scent reminiscent of its name and is part of the Graceful Signature Line which also includes Graceful Organic Handmade Soap and Graceful Organic Luxurious Body Cream.
* The base for this perfume is non-toxic. As such, the fragrance may have a slight separation if left sitting for longer periods. Lightly shake before each use to insure incorporation. This product does not contain preservatives.
Weight: 3.8 Oz.
Paraben Free
Phthalate Free
Sulfate Free
Paraffin Free
Propylene Glycol Free
Gluten Free
Mineral Oil Free
Petrolatum Free
Non-GMO
Vegan
Cruelty Free
Handmade
Susan
My wife loves the perfume an would highly recommend it thank you ,God bless you sister
Amazing!
This ilsmells sooo good its my new favorite, when will it be back in stock?
Graceful signature perfume
Smells wonderful and lasts a long time compared to other brands fragrances.
Graceful... LOVE IT!
I typically don't wear perfume, but I've ordered from this ministry several times and I've never been disappointed. Once again I am very pleased! This scent is beautiful! I am in love with it!