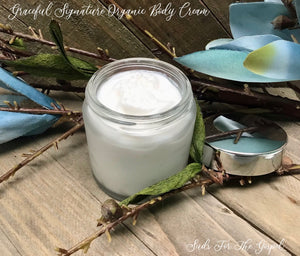 About: A luxurious and skin softening body moisturizer with scents of mandarin orange, melon, blackberry, and violet leaf comprising the top notes, followed by notes of lavender, jasmine, lily-of-the-valley, and nectarine. The bottom notes are fresh honey, oak, and musk. This is one of the best scents I have ever smelled and a best seller. You'll love it too! Pair with the "Graceful" Luxurious Body Bar Soap.
Weight: 4 Oz
Ingredients: Distilled Water, Organic Aloe Vera, Organic Sunflower Oil, Meadowfoam Oil, Organic Sweet Almond Oil, Soya Oil, Organic Shea Butter, Stearic Acid, Emulsifying Wax, Vegetable Glycerin, Palmitic Acid, Tocopherol (Vitamin E), Potassium Sorbate, Citric Acid, Vitamin C, Hypoallergenic Fragrance
Phthalate Free
Paraben Free
Sulfate Free
Paraffin Free
Mineral Oil Free
Synthetic Dye Free
Vegan
Cruelty Free
Gluten Free
Non-GMO
Propylene Glycol Free
Made in USA
BEAUTIFUL BEAUTIFUL SCENT🥰
This Body Cream smells sooooo BEAUTIFUL! It's not overpowering, just light and Elegant❤️ And it leaves my skin feeling Nice and Moisturized🤗
Great product for the price!
Great gifts in the right spirit. Amen.
I cried when I opened all of the soaps. It was such a spectacular & thoughtful presentation, done with care; for some reason, the careful attention to detail - and the enclosed biblical quote - caused my eyes to well up. Maybe it was an hopeful, loving reminder that God's NOT Dead.
Grateful for "Graceful"
I was looking for a body care moisturizer that was chemical free when this product was introduced to me. I was accustomed to lotions, but was willing to try a cream. I am so glad I did and will be purchasing more in the future. The things I like most about "Graceful" are a little goes a long way, it absorbs quickly, my skin feels hydrated immediately, my skin is soft, and it's NOT greasy!!