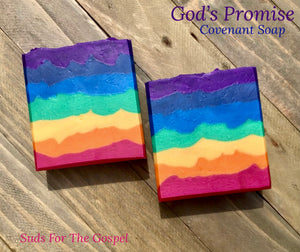 Genesis 9:12-17
And God said, "This is the sign of the covenant that I make between me and you and every living creature that is with you, for all future generations: I have set my bow in the cloud, and it shall be a sign of the covenant between me and the earth. When I bring clouds over the earth and the bow is seen in the clouds, I will remember my covenant that is between me and you and every living creature of all flesh. And the waters shall never again become a flood to destroy all flesh. When the bow is in the clouds, I will see it and remember the everlasting covenant between God and every living creature of all flesh that is on the earth." God said to Noah, "This is the sign of the covenant that I have established between me and all flesh that is on the earth."
This soap is a wonderful reminder of the promises of God which are all true. The colors are vibrant and bold and include the seven colors of God's Rainbow!
About: God's Promise is a conditioning soap with the scent of green notes punctuated by citrus with an element of earth. It is a bright blend of lime and grapefruit top notes enhanced by middle notes of warm sandalwood and vetiver with the slightest hint of caraway and cedar.
Weight: 4.5 Oz.
Ingredients: Organic Sunflower Oil, Distilled Water, Organic Coconut Oil, Organic Sustainable Palm Oil, Organic Mango Butter, Organic Sweet Almond Oil, Organic Castor Oil, Sodium Hydroxide, Mica Colorant, Phthalate Free Fragrance Oil
Phthalate Free
Paraben Free
Sulfate Free
Gluten Free
Paraffin Free
Mineral Oil Free
Propylene Glycol Free
Silicone Free
Vegan
Cruelty Free
Non-GMO
Organic Ingredients
Handmade
Beautiful and smells great
Love this bar of soap! The smell is nice, and the colors are vibrant! It lasts many showers. I will be purchasing again if it's available.
God's promise
Beautiful bright colors! I can't wait to try it!! It smells really good 👍
Sooooo pretty! 🤩🌈
Bought this gorgeous soap as a gift for A sweet friend.
Trust me when I tell you that it is a vibrant and stunning bar!
I could smell the delightful fragrance through the wrap and knew it was gonna be winning gift 🎁 🏆