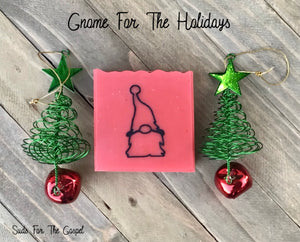 Top notes of cinnamon are complemented with toasted bread middle notes. At the bottom of this fragrance are subtle sugar and butter notes. A scrumptious blend that is so, so good!
Weight: 4.5 Oz.
Ingredients: Organic Coconut Oil, Organic Sunflower Oil, Organic Sustainable Palm Oil, Organic Canola Oil, Organic Castor Oil, Organic Mango Butter, Sodium Hydroxide, Distilled Water, Hypoallergenic Fragrance Oil, Sustainably Sourced Mica
Phthalate Free
Paraben Free
Sulfate Free
Paraffin Free
Mineral Oil Free
Propylene Glycol Free
Cruelty Free
Vegan
Gluten Free
Organic Ingredients
Handmade
Super cute. I purchased it for a gift.
Really does smell like cinnamon!
If you like the scent of cinnamon, you will love this cute soap for the holidays!