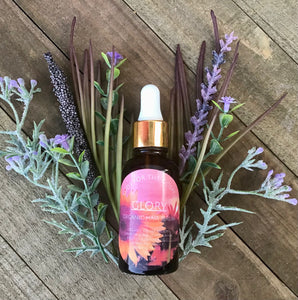 About: Organic and luxurious ingredients including organic camellia, jojoba, argon and amla fruit oils come together in one little bottle for the nourishing, smoothing, softening and shine enhancing hair serum you've been looking for! This little bottle contains exceptionally nourishing ingredients.

Weight: 2 Oz.
Ingredients: Organic Jojoba Oil, Organic Argon Oil, Organic Camellia Oil, Organic Coconut Oil, Organic Avocado Oil, Organic Almond Oil, Organic Olive Oil, Organic Sunflower Oil, Organic Amla Fruit Oil, Emblica Fruit Extract, Vitamin E
Directions For Use: Using dropper, place several drops of serum into the palm of your hand. Rub hands together and work the serum through damp hair strands from about mid-strand working through to the ends. Comb through and style as usual. A little goes a long way! Try using the smallest amount first and increase as desired to avoid using too much product. Unless you have very dry hair, it is best to avoid placing product on roots of hair. 
This hair serum may be used on wet or dry hair, but tends to work best when used on wet hair. This product also helps to detangle curly hair. 
Very Nice Product!
I bought this product for my granddaughter's natural hair. I haven't had the chance to use it on her yet, but I did use it in combination with the SELAH Organic Curl Defining Leave-In Conditioning Cream with Raw Honey for styling my hair. I'm very impressed. Usually my hair is dry and frizzy when I style it at home, but not this time. These 2 products left my hair smooth, shiny and bouncy! I'm very pleased with the result! Thank you, Candice!
Fantastic!
Love this! I put a few drops on dry hair and it makes it silly and soft without looking oily.
"Glory" Organic Nourishing & Softening Hair Serum