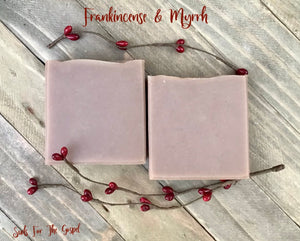 About: A blend of Frankincense, Myrrh and Oud oils round out this woodsy, exotic scented soap. 
Matthew 2:11_  And when they were come into the house, they saw the young child with Mary his mother, and fell down, and worshipped him: and when they had opened their treasures, they presented unto him gifts; gold, and frankincense, and myrrh.
Weight: 4.5 Oz.
Ingredients: Organic Coconut Oil, Organic Sunflower Oil, Organic Castor Oil, Organic Canola Oil, Organic Sustainable Palm Oil, Organic Mango Butter, Sodium Hydroxide (not present in finished product), Distilled Water, Essential Oil/Hypoallergenic Fragrance Blend including Organic Frankincense Essential Oil, Organic Myrrh Essential Oil
Phthalate Free
Paraben Free
Sulfate Free
Cruelty Free
Vegan
Gluten Free
Non-GMO
Organic Ingredients
Handmade
Frankincense & Myrrh Organic Handmade Soap?
I love this soap it smells great and gives you a real sense of clean plus it's good for your skin.. Very pleased 👍👍
Truly heavenly smell
Beautiful. I love bath\ shower time