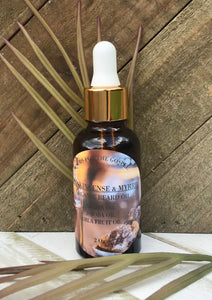 An exotic blend of frankincense, woods, and myrrh, highlighted with hints of honey, vanilla, and amber. Made with premium ingredients including Organic Jojoba, Argon and Amla Fruit oils for optimum conditioning of your beard. This oil will help to smooth and tame hair, keep away beard dandruff and thoroughly nourish.
Weight: 2 Oz.
Ingredients: Organic Sweet Almond Oil, Organic Castor Oil, Organic Jojoba Oil, Organic Argon Oil, Organic Amla Fruit Oil, Organic Vitamin E, Hypoallergenic Fragrance Oil
Phthalate Free
Paraben Free
Sulfate Free
Propylene Glycol Free
Gluten Free
Vegan
Cruelty Free
Non-GMO
Mineral Oil Free
Organic Ingredients
Handmade
This Is Special!
Oh Wow! This beard oil smells A-Ma-Zing!!! It had a silky feel to it and the fragrance last a long long time. It gave it to my nephew and it was a big hit with him (I also included where the proceeds go and that drove it home for him)! I Highly Recommend It As A Special Gift!