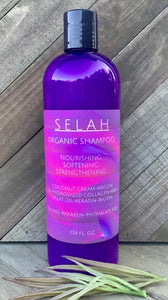 About: This luxurious shampoo is formulated to be nutrient dense with the benefits of citrus essential oils, creamy coconut, biotin, collagen, keratin, argon oil and Amla fruit oil. Packed with hair loving nutrients, to nourish, soften, strengthen and improving the texture of every strand.  These ingredients together help to allow for optimal hair health and growth while gently cleansing and leaving your hair manageable, shiny, smooth and smelling amazing!
Organic Sweet Orange Essential Oil: both antiseptic and anti-inflammatory, which makes it perfect for those prone to dandruff and other scalp issues. An excellent moisturizer for brittle, dry hair as it is known to improve the smoothness of strands.
Organic Argon Oil: often used as a key ingredient in hair care products due to its ability to restore softness, strength and shine to hair. An ideal ingredient for anyone suffering with brittle, dry hair or hair damaged by over-styling and chemical damage.
Organic Lemongrass Essential Oil: boosts and strengthens hair follicles. Antibacterial and creates an environment on your scalp for healthy hair growth.
Organic Amla Fruit Oil: high in vitamin C and natural antioxidants. When used in hair products, Amla fruit oil is thought to strengthen and condition follicles down to the roots. 


Weight: 17.4 Fluid Ounces
Ingredients: Purified Water, Cocamidopropyl Betaine, Sodium Lauroyl Sarcosinate, Organic Palm Oil, Rapeseed Oil, Organic Coconut Oil, Biotin, Hydrolyzed Collagen, Organic Argon Oil, Hydrolyzed Keratin, Hydrolyzed Silk Protein, Cocoa Extract, Pea Protein, Horse Chestnut, Sorbitol, Organic Seaweed Extract, Red Algae, Fractionated Coconut Oil, Guar Bean, Silk Proteins, Organic Amla Fruit Oil, Organic Sweet Orange Essential Oil, Organic Lemongrass Essential Oil
Phthalate Free
Paraben Free
Sulfate Free
Synthetic Fragrance Free
Dye Free
Gluten Free
Silicone Free
Propylene Glycol Free
Organic Ingredients
Cruelty Free
Vegan
Handmade
Love Suds For The Gospel!
I've been using Candice's products for a while now. I love the Shampoo & Conditioner and the fact that Candice cares enough to only use the best ingredients is one reason I will continue to support her ministry. The amount of hair I lose in the shower is considerably less now. I'm excited to use the new formula!
Shampoo
This shampoo is amazing! It leaves my hair tangle free and so soft.
Products to the Glory of GOD!
Candice puts a lot of tender loving care into the products she produces and you can tell it's all to the glory of GOD.
Shampoo and conditioner
Lovely products. Hair is softer.
Great products.
Feels great on my head while shampooing, makes my hair soft without being heavy and has an amazing smell 😊❤️