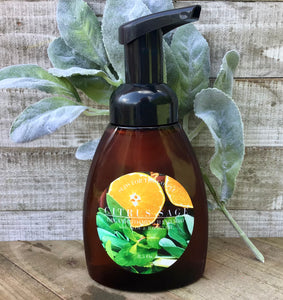 Completely organic and 100% natural, this moisturizing foaming hand soap is scented with refreshing organic lemon, lime, sweet orange and Sage essential oils.
Weight: 8.5 Oz.
Ingredients: Organic Saponified Coconut, Olive and Jojoba Oils, Organic Vegetable Glycerin, Organic Rosemary Extract, Organic Aloe, Organic Lemon Essential Oil, Organic Lime Essential Oil, Organic Sweet Orange Essential Oil, Organic Sage Essential Oil
*Some settling and/or separation may occur. Simply turn product upside down and lightly agitate to reconstitute ingredients. This product does not contain a preservative. Shelf life is 6-8 months if stored in a cool area.
This organic product is free from:
Phthalates
Parabens
Sulfates
Gluten
Synthetic Fragrance
Dyes
Propylene Glycol
Mineral Oil
GMO's
It is also cruelty free, vegan, and handmade
SUCH A BEAUTIFUL SCENT🥰
This is such a Beautiful Scent!! I will be purchasing more of this.