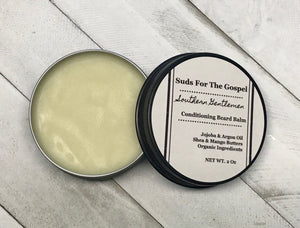 About: Southern Gentlemen Organic Conditioning Beard has nuances of oakmoss, violet, and cedarwood and is formulated to tame and smooth your beard while conditioning the hair and skin follicles for a well kept, healthy looking beard.
Made with organic ingredients, this balm won't weigh your beard down or leave it feeling greasy and is designed to work perfectly with Citrus & Patchouli Conditioning Beard Oil.
Size: 2oz
Scent Strength: Perfectly Masculine
Ingredients: Cruelty-Free Organic Beeswax, Organic Shea Butter, Organic Sweet Almond Oil, Organic Jojoba Oil, Vitamin E oil, Hypoallergenic Fragrance & Organic Essential Oil Blend including Organic Orange, Patchouli and Cedarwood Essential Oils
Hold: Medium
After washing your beard with Citrus & Patchouli Facial and Body Bar, towel dry and apply Citrus & Patchouli Beard Oil.  Follow with Citrus & Patchouli Beard Balm to give you control that keeps your beard healthy and in place throughout the day.
Phthalate Free
Paraben Free
Sulfate Free
Gluten Free
Cruelty Free
Gluten Free
Non-GMO
Organic Ingredients
Handmade
Great Beard Balm
I've used a lot of beard products but nothing compares to the scent and feel of these. Get you some!!