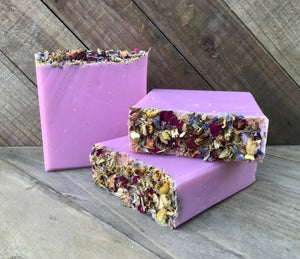 About: This gorgeous soap is scented with a pleasingly complex blend of Pear Blossom, Bulgarian Lavender, Fresh Strawberry, Kiwi,  Lemon Zest, Lily of The Valley, Honeysuckle, Golden Amber and warm Musk making this one of the best scents I've ever smelled! It is beautifully adorned with dried rose petals, calendula, jasmine buds, and cornflower. 

Isaiah 61:11_ For as the earth bringeth forth her bud, and as the garden causeth the things that are sown in it to spring forth; so the Lord GOD will cause righteousness and praise to spring forth before all the nations.
Weight: 5 Oz.
Ingredients: Organic Coconut Oil, Organic Sunflower Oil, Organic Canola Oil, Organic Castor Oil, Organic Sustainable Palm Oil, Organic Mango Butter, Sodium Hydroxide (not present in finished product), Distilled Water, Hypoallergenic Fragrance & Essential Oil Blend, Indigo Powder, Madder Root Powder, Kaolin Clay, Dried Rose Petals, Dried Calendula, Dried Cornflower, Dried Jasmine Buds
Phthalate Free
Paraben Free
Sulfate Free
Vegan
Cruelty Free
Gluten Free
Non-GMO
Organic Ingredients
Handmade
THIS MAKES ME SMELL LIKE FLOWERS 🥰
This soap smells and feels soooooo BEAUTIFUL on my skin🥰 Candice threw this in my package and I am so Happy she did..I will be purchasing more of this😊
Back2TheGarden
Absolutely love this soap! Candace even lovingly threw in an extra bar and I'm sooo excited to gift it to a friend I recently told about these incredible soaps!