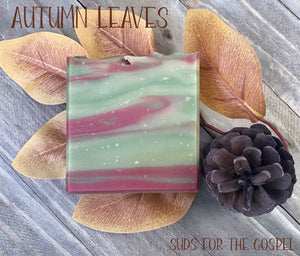 Soothing woodsy notes and calming chamomile intertwine with fresh gathered hay scents, beeswax, and fresh grassy-herbal notes. Aged oak, forest-like oakmoss, and warm cinnamon enhance this wonderful blended, subtle soap.
Weight: 4.5 Oz
Ingredients: Organic Coconut Oil, Sunflower Oil, Organic Canola Oil, Organic Castor Oil , Organic Sustainable Palm Oil, Organic Mango Butter, Kaolin Clay, Sodium Hydroxide (lye), Distilled Water, Organic Paprika Powder, Hypoallergenic Fragrance Oil
Phthalate Free
Paraben Free
Sulfate Free
Vegan
Cruelty Free
Propylene Glycol Free
Gluten Free
Non-GMO
Organic Ingredients
Handmade
Lovely
Perfect capture of Autumn in a fragrant bouquet.