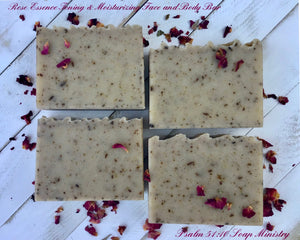 About: Organic rose water, organic rose hip oil and freshly dried rose petals combine for a beautifully cleansing and toning bar. With nourishing ingredients like organic mango seed butter and jojoba oil, this soap will revitalize your skin and is ever so slightly scented. The dried rose petals add light exfoliation.
Weight: 5 Oz.    * weights vary slightly due to being hand poured and cut *
Ingredients: Organic Coconut Oil, Organic Sunflower Oil, Organic Sweet Almond Oil, Organic Castor Oil, Organic Sustainable Palm Oil, Organic Rosehip Oil, Organic Kokum Butter, Organic Mango Seed Butter, Sodium Hydroxide, Organic Rose Water, Organic Chamomile Hydrosol, Pink Brazilian Clay, Ground Dried Rose Petals
Phthalate Free
Paraben Free
Sulfate Free
Vegan 
Cruelty Free
Gluten Free
NON-GMO
Propylene Glycol Free
Organic Ingredients
Made in USA
Love them all
This is just one of the soaps I purchased and they're exactly what I was looking for. They get the job done, smell amazing and don't leave a film on me. Definitely sticking with this company and proud to support the ministry 😘🙏😘🙏
I reeaaallyyyy like this soap. This has to be my favorite one that I've tried so far.. I've never smelled a rose scented product that literally smelled like a fresh bouquet of roses...THIS ONE DOES! It smells so fresh and beautiful and feels so nice on my skin and I really appreciate the natural ingredients. I'm using this one only on my face since it's slightly small and I want to make it last! 💛🌹 it is healing my acne that I've been picking at
One of my favorite face products
I have been using this soap for a couple of months now and I love it! I have already ordered my second bar. I recently found out that my husband has been using it on his face too! He said that he likes the way it makes his face feel.
All natural soaps
My new favorite soaps.love the scents and all natural ingredients, also loving my facial oil I now use every night.
I haven't started using this soap yet, but I can't stop smelling it! Wonderful!!