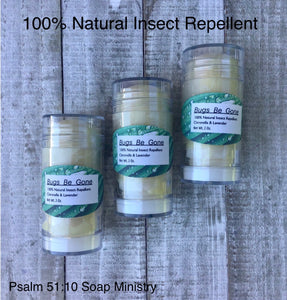 About: When you want to keep pesky bugs like mosquitos, spiders and gnats at bay, you want a product that works and has zero chemicals or harsh ingredients. This is that product! Our organic, natural insect repellant contains only the best organic ingredients without the toxic, bad for you chemicals and it smells fantastic! Simply remove the lid and rub onto areas of skin where you wish to keep bugs away. Product is heat sensitive. Store in a place away from heat.
Weight: 2oz
Ingredients: Organic Extra Virgin Olive Oil, Organic Shea Butter, Organic Beeswax, Organic Squalene Oil, Organic Vitamin E, Organic Citronella and Lavender Essential Oils
Phthalate Free
Paraben Free
Deet Free
Cruelty Free
Organic Ingredients 
Sulfate Free
Mineral Oil Free
Silicone Free
Dye Free
Synthetic Fragrance Free
Gluten Free
Handmade
Awesome Bug Repellant!
We recently spent the weekend at a horse ranch in SC where the bugs were plenty! I used this prior to going to a campfire and not one bug bothered me. I love the fact that it's all natural organic ingredients with a natural scent. I hope this is a product that stays around!
Best bug repellent I have ever used
I tried this bug repellent and it is the best I have ever used. Aside from I got no bug bites it left my skin soft and no harsh chemical smell or residue. I will only us this from now on.
Great scent + highly effective!
I am so excited to find an organic formula that actually works. I love the fresh scent - but love no bugs even more!
Good stuff
My brother used this and it worked for him. He liked it so good that he kept it. So now I am ordering more.
Insect Repellent
Love the easy to use and tote format. Thankful
For a natural alternative too.