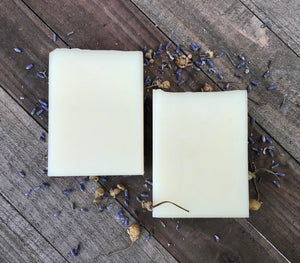 About: The health and feel of your delicate facial skin is important. This toning and moisturizing 100% natural facial soap is formulated with baobab oil which tones and firms skin for a youthful appearance. Also included are lavender, chamomile, and clary sage oils for their therapeutic and aromatic benefits. Formulated to be accompanied by the Lavender, Chamomile & Herb Facial Moisturizer.
Lavender Oil

works to kill bacteria, and this can prevent and heal acne breakouts. It unclogs pores and reduces inflammation when you put it on your skin.  Since lavender has antifungal properties and reduces inflammation, it can help keep eczema at bay and be used to treat psoriasis . Lavender oil helps cleanse your skin and lessen redness and irritation.

Chamomile Oil

is calming and soothing and has been used for centuries as a calming herb. It eliminates redness, irritation and boosts the appearance of healthy looking skin.

Clary Sage

is suited to both oily and dry skin types. It exhibits a cooling property that soothes skin afflicted with inflammation and it calms rashes. Its balancing property stabilizes the production of natural oil and sebum to prevent acne breakouts.
Weight: 4.0 Oz
Ingredients: Organic Coconut Oil, Organic Canola Oil, Organic Castor Oil, Organic Oil, Organic Apricot Kernel Oil, Organic Rice Bran Oil, Organic Safflower Oil, Organic Sunflower Oil, Organic Jojoba Oil, Wheat Germ Oil, Organic Sustainable Palm, Organic Mango Butter, Organic Baobab Oil, Sodium Hydroxide, Distilled Water, Organic Clary Sage Hydrosol, Organic Lavender Oil, Organic Chamomile Oil, Organic Lemongrass Oil


Phthalate Free
Paraben Free
Sulfate Free
Gluten Free
Non-GMO
Propylene Glycol Free
Mineral Oil Free
Paraffin Free
Vegan
Cruelty Free
Organic Ingredients
Handmade
Smells great!
This soap smells great and lathers nicely!! It leaves my face smooth without leaving a soapy residue! 💕
My Favorite!!
Wow! I Love this Facial Bar❤️ This bar is soooo Amazing!! My face feels so Clean and Smooth. It also helps clear my face from pimples 🤗
This is a very popular facial bar and I'm so glad you're loving it! Thank you for supporting the ministry.
Best face bar
I love this bar. My son is 14, he has KP and his face gets the bumps from it. This has cleared his face. I have been cleansing my face with it too and love it! My face is soft and very smooth! I'll be purchasing a few of these this time!
5 star
My new favorite company..love the all natural bars n facial bars