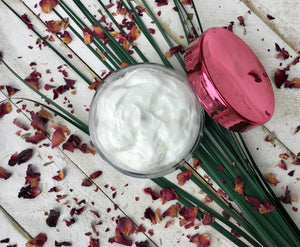 About: Natural and Organic Aloe and Shea Butter combined with Organic Rose Water and Organic Clary Sage Hydrosol anchor this beautiful facial day cream. Enhanced with Organic Rose Hip and Argon oils to deeply moisturize and replenish your skin. Lightly scented with Organic Geranium Essential Oil. This day cream compliments the Rejuvenating Hibiscus and Rose Hip Nighttime Facial Oil.
Organic Rose Water
Balances skin's natural oils
Helps reduce the look of temporary redness
Helps to naturally hydrate
Has antioxidant properties that nourish and protect the skin
Can help prevent fine lines and wrinkles and diminish the look of existing ones
Organic Clary Sage Hydrosol
Gentle astringent properties; great for toning oily or combination skin
Calming for the skin and mind
Organic Rose Hip Oil 
Hydrates
Tightens and firms skin
Moisturizes 
Helps exfoliate and brightens skin
Boosts collagen formation
Reduces inflammation
Helps protect against sun damage
Can reduce hyperpigmentation
Organic Argon Oil
Protects from sun damage
Moisturizes Skin
Good for several skin conditions such as psoriasis, acne and atopic dermatitis 
Weight: 4 Oz.
Ingredients: Organic Aloe Vera, Organic Rose Water, Organic Clary Sage Hydrosol, Organic Sunflower Oil, Meadowfoam Oil, Organic Sweet Almond Oil, Organic Safflower Oil, Organic Jojoba Oil, Organic Coconut Oil, Organic Olive Oil, Organic Rose Hip Oil, Organic Hibiscus Extract, Soya Oil, Organic Shea Butter, Organic Argon Oil, Stearic Acid, Emulsifying Wax, Glycerin, Organic Geranium Essential Oil, Organic Vitamin E 
Phthalate Free
Paraben Free
Sulfate Free
Paraffin Free
Synthetic Fragrance Free
Synthetic Dye Free
Vegan
Cruelty Free
Gluten Free
Propylene Glycol Free
Mineral Oil Free
Non-GMO
Organic Ingredients
Made in USA
Heaven on your face
I absolutely love my rose facial moisturizer and it smells wonderful. Also it's not greasy it's perfect 😘🙏😘🙏
Second purchase
My acne prone teenager confiscated my last jar and requested another because it has helped her breakouts tremendously!
Love this product!
The first thing I noticed about this product is that it smells like the original Oil of Olay! I have been having dry skin issues for a couple of months and this has really helped combat the dryness. I use a small amount under my make up and it really gives my foundation a nice finish. I also use it before bed and I'm loving the results.
Love this day cream! I tossed out all my store bought creams and oils once I started using these!
Wonderful Natural Products
These products have been a wonderful addition to my skincare routine. I have dry skin and this has helped alot! They have a wonderful light scent, and I absolutely am thrilled with the results! No more store-brand products for me!