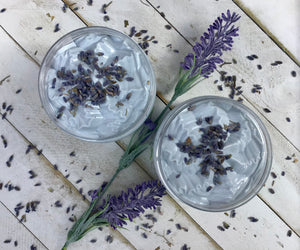 About: Smooth on this luxurious and creamy whipped soap that feels lighter than air. A nourishing and therapeutic blend of Organic  Thuja and Organic Evening Primrose oils pamper your skin. Scented with Organic French Lavender and Lemon essential oils for an aromatic experience. Use for cleansing the whole body, shaving cream and even shampooing hair! A little goes a long way.
Evening Primrose Oil: 

healing benefits may be due to its high gamma-linoleic acid (GLA) content. GLA is an omega-6 fatty acid with potent anti-inflammatory properties. Studies have shown EPO to be a powerful acne-fighting agent and also helpful with problematic eczema. Traditionally taken as an oral supplement, but also effective topically.

Thuja Oil: The tips of the leaves of cedar, Thuja occidentalis, are useful in skin washes and baths to address skin problems like psoriasis. 


 Weight: 7 Oz.
Ingredients: Glycerin, Distilled Water, Sorbitol, Cocamidopropyl Betaine, Sodium Lauroyl Sarcosinate, Stearic Acid, Sodium Chloride, Organic Evening Primrose Oil, Organic Thuja Oil, Organic French Lavender Essential Oil, Organic Lemon Essential Oil, Vitamin E Oil, Indigo Powder, Dried French Lavender Buds
Phthalate Free
Paraben Free
Sulfate Free
Cruelty Free
Vegan
Non-GMO
Gluten Free
Propylene Glycol Free
Organic Ingredients
Made in USA
Graceful perfume
Love the light clean scent of it. Just wish it lasted longer
Iove the smell
It doesn't sud up (for me anyways, I use a long exfoliating cloth) but it is a very good soap and cleanses well. The smell is so good, I love lavender and lemon and would even buy bars in this scent 😄
Smells Amazing and gently cleanses
Love this! I've used it on my kiddos too who love it. This leaves a lingering beautiful fragrance as I go about my day. Very refreshing!