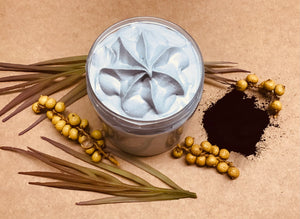 About: Smooth on this luxurious and creamy whipped soap that feels lighter than air. Detoxifying activated charcoal cleanses clogged pores while organic kokum butter pampers and moisturizes your skin. Wonderfully scented with organic sandalwood and eucalyptus essential oils. Use as a facial cleanser as well as for washing the body. Can also be used as a creamy shaving cream. A little goes a long way!
Kokum Butter Benefits: 
Moisturizes Dry Skin
Treats Acne And Blemishes
Reduces Skin Inflammation
Anti-Aging And Anti-Free Radical Agent
Provides Relief To Itchy And Peeling Skin
Restores The Elasticity Of The Skin
Reduce Razor Irritation And Bumps
Activated Charcoal Benefits: Acne-causing bacteria can trigger pimples and other inflammatory lesions, resulting in irritation, redness, and swelling. The antibacterial properties of activated charcoal help lift bacteria from the pores. This may help with reducing acne and improving overall skin complexion.
Weight: 6 Oz.
Ingredients: Glycerin, Distilled Water, Sorbitol, Cocamidopropyl Betaine, Sodium Lauroyl Sarcosinate, Stearic Acid, Sodium Chloride, Organic Kokum Butter, Organic Sandalwood Essential Oil, Organic Eucalyptus Essential Oil, Organic Activated Charcoal Powder
Phthalate Free
Paraben Free
Sulfate Free
Cruelty Free
Vegan
Non-GMO
Gluten Free
Propylene Glycol Free
Organic Ingredients
Made in USA
Dreamy soap that smells so good!
This whipped soap smells so good and is very refreshing! I love to use it on my face and body in the shower!
Wow!! The Most Beautiful Scent❤️
This is the Best Cleanser I've ever used!! And the scent is just Beautiful and Refreshing😍 I totally recommend!