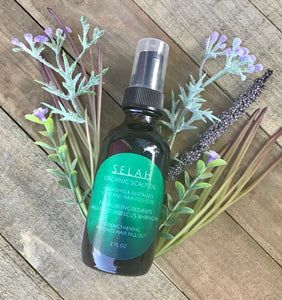 About: SELAH scalp oil is a unique blend of cold-pressed organic oils infused with authentic Indian herbs to enhance hair beauty and health. This premium quality hair oil does not contain any synthetic fragrances or colors.
STIMULATES HAIR GROWTH: The nourishing hair massage oil promotes the growth of healthy hair and improves its overall texture and volume. The oil contains the finest quality cold pressed organic oils and herbs to prevent hair loss.
HAIR NOURISHMENT: SELAH hair oil acts as a natural conditioner and moisturizer to promote shiny hair. It keeps flakes at bay and treats the inflamed scalp to prevent hair thinning and premature greying of hair.
HOW TO USE: Depending on thickness of hair, pump small amount of oil onto scalp area and gently massage into scalp and roots of hair. Product is absorbed best if applied to damp hair. After gently massaging scalp with the SELAH scalp oil, leave it for a minimum of 20-30 minutes at least 2 hours before washing your hair. Applying product to scalp and leaving in overnight produces optimal results. Weekly usage of 2-3 times for 1-3 months is recommended for strong and shiny hair with noticeably reduced hair fallout and new hair growth.
Solution for Hair Loss:
A massage with this scalp therapy oil provides required nutrition to the roots of the hair and prevents hair fall out. SELAH oil is suitable for men, women, and children.
Ideal Scalp Oil:
SELAH oil calms itchy scalp, removes dandruff, clears hair follicles, and eliminates the problem of dry and damaged hair.
Useful for Beard Growth:
The cold pressed organic oils and herbs used in SELAH oil make it an amazing beard oil for the growth of thick beard.
SELAH Oil for Eyelashes:
Indian herbs are well known for growing hair and preventing hair fall. Use this organic oil for growing thicker eyebrows and eyelashes.
Helps reduce Split-ends:
Indian herbs and oils are known for their revitalizing effects as they provide nourishment to the hair and helps reduce split ends.
What's Inside?
Organic Bhringraj Extract - Nourishes hair roots & promotes hair growth.
Organic Amla Fruit Extract - Delays premature greying of hair and works as a conditioner.
Organic Hibiscus Extract - Stimulates hair growth.
Organic Onion Oil - Moisturizes dry, frizzy hair and enhances hair's natural lustre & shine.
Organic Neem Extract - Helps in reducing hair fall & enhances the rate of hair growth.
Organic Methi Extract - Helps to stimulate hair follicles & promotes hair growth rapidly.
Organic Ginger Extract - Useful for dandruff and dry, itchy scalp.
Organic Sesame Oil, Organic Coconut Oil, Organic Sunflower Oil, Organic Almond Oil, Organic Castor Oil, Organic Curry Leaf Extract, Organic Tamanu Oil, Organic Vitamin E, Organic Lemon Oil, Organic Holy Basil Oil, Organic Peppermint Oil, Organic Eucalyptus Oil, Organic Rosemary Oil, Organic Frankincense Oil, Organic Lemongrass Oil
Weight: 2 Fluid Ounces
Thinning Hair
I purchased this and the Selah Shampoo for my husband whose hair had begun to thin considerably. I decided to try it before purchasing a big name product that everyone sells. He's been using this around 4+ months I believe (I deleted my emails from my purchase). When I gave him his last haircut, I noticed a definite increased thickness. It's working! He's been applying the oil 2-3 times a week and he shampoos 3 times a week. He goes ahead and uses it during the day. It doesn't look terribly oily and he works from home anyway. Very pleased!
Scalp Health and Hair Growth in a bottle!
I had a big stress spot in the front and my temples were getting very thin. But then I started using this amazing oil, and I have lots of new growth again and my hair is thicker also. I had someone compliment how full my hair is. It's like I actually have my Dad's amazing hair! No more stress head!
Love it!
I love the hair oil it smells great! I only just started using it - so I am looking forward to see how much healthier my hair becomes with regular use 💜
SELAH Organic Herb & Vitamin Infused Scalp Oil
A MUST HAVE!!
My sister has dry and itchy scalp (Very Bad). She put this on and left it on for a whole day and her scalp is moist and not itchy. It also helped lessen her dandruff. Totally Recommend!!
That's awesome! I'm so glad it's working for you! I use it myself and I have seen a marked improvement in the condition of my scalp and hair. Thank you for your review.