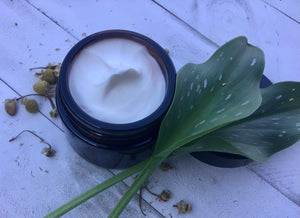 About: Shaving often means irritation to skin causing dryness and razor burn. Regular shaving also encourages hair follicle activity which promotes hair growth and thickness. Organic Smoothing After Shave Moisturizer leaves skin smooth, soft and silky and free from irritation using premium organic ingredients including organic Shea butter, mango seed oil, jojoba oil, black seed oil, raw honey, and aloe.
The active ingredient in this moisturizer, Gymnema Sylvestre Leaf Extract, is the hidden gem. Gymnema Sylvestre leaves contain gymnemic acids that help to inhibit hair follicle activity. These acids are said to slow hair growth. The rate at which hair grows and the thickness of the hair are dependent on the activity of the hair follicles. The botanical extract Gymnema Sylvestre Leaf inhibits this activity meaning the hair not only develops more slowly, but is also thinner, making it easier to shave off or otherwise remove!
Completely organic and natural ingredients are used to formulate this amazing after shave moisturizer. It is lightly scented with Organic Cedarwood, German Chamomile, and Carrot Seed Essential Oils and is perfect for use by men and women.
Men: After shaving, rinse face with warm water and pat dry. Apply a small amount of moisturizer to entire face, focusing mainly on areas of the face where hair growth is most pronounced including cheeks, chin, above upper lip, and neck.
Women: After shaving or waxing legs, rinse with warm water and pat dry. Apply small amount of after shave moisturizer to damp skin for maximum coverage and absorption. Hair growth from the knee and below is often the thickest and grows the fastest. Focus applying moisturizer to this area most.
**This product has not been tested on bikini areas. Due to the sensitivity of this area, use of this moisturizer is at your own discretion. Product is non-toxic and contains zero chemicals or unnatural ingredients.
You will immediately notice this moisturizer leaving skin extra soft, supple and smooth.
Weight: 2.2 Oz
Ingredients: Distilled Water, Organic Shea Butter, Organic Cocoa Seed Butter, Organic Mango Oil, Organic Coconut Oil, Emulsifying Wax, Organic Aloe Vera Leaf Juice, Organic Gymnema Leaf Extract, Organic Cascarilla Bark Extract, Organic Jojoba Oil, Panthenol, Organic Raw Honey, Organic Pomegranate Seed Oil, Organic Black Seed Oil, Organic Honeysuckle Extract
Paraben Free
Paraffin Free
Phthalate Free
Sulfate Free
Vegan
Cruelty Free
Gluten Free
Mineral Oil Free
Propylene Glycol Free
Nom-GMO
Organic Ingredients
Handmade