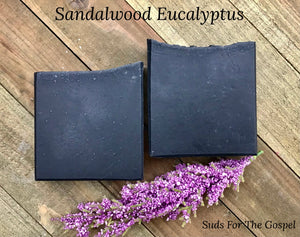 About: This soothing combination of sandalwood and creamy coconut blends effortlessly with eucalyptus, amber and jasmine.
Weight: 5 Oz.
Ingredients: Organic Coconut Oil, Organic Sunflower Oil, Organic Sweet Almond Oil, Organic Castor Oil, Organic Sustainable Palm Oil, Organic Mango Butter, Sodium Hydroxide, Distilled Water, Hypoallergenic Essential/Fragrance Oil Blend, Activated Charcoal, Himalayan Salt
Phthalate Free
Paraben Free
Sulfate Free
Cruelty Free
Vegan
Non-GMO
Organic Ingredients
Made in USA
Sandalwood eucalyptus soap
Bought for my husband. He loves it!
Soft and soothing
The aroma of this soap was unexpected. The balance of jasmine against the warmth of the amber and sandalwood ina charcoal soap is such a treat. Charcoal soaps can finish somewhat bitter or too earthy. This is more like a well rounded bouquet.
Works wonders and smells great
I love all the soaps from psalm5110. This one doesn't disappoint and works great. I highly recommend.