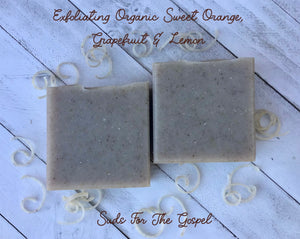 NEW LOOK AND FORMULA. Same great soap!
About: This amazing soap is a natural way to cleanse and exfoliate your entire body without stripping your skin of moisture or using harsh chemicals or solvents to do so. This soap uses organic orange, grapefruit and lemon essential oils which naturally remove dirt, oil and grease as well as walnut shell and pumice to exfoliate, allowing your skin to feel and look great and smell nice too!
Weight 5.0 Oz.
Ingredients: Organic Coconut Oil, Organic Sunflower Oil, Organic Sweet Almond Oil, Organic Castor Oil, Organic Sustainable Palm Oil, Organic Mango Butter, Sodium Hydroxide (not present in finished product), Distilled Water, Organic Sweet Orange Essential Oil, Organic Grapefruit Essential Oil, Organic Bergamot Essential Oil, Black Walnut Hull Powder, Ground Pumice, Paprika (for color)
Phthalate-Free
Paraben-Free
Sulfate Free
Vegan
Cruelty-Free
Non-GMO
Gluten Free
Organic Ingredients 
Handmade
Great for MTHFR skin!
For anyone who needs help sloughing dead skin off, this is the PERFECT bar of soap! I feel so polished after using this. I know it isn't for direct skin usage, but that rough scrub feeling is exactly what this gives. I love it and hope to never run out. Someday I'll order by the LOAF!
Great products!
Thank you so much for the great smelling products you produce!!
Haven't used that one yet. I like the tobacco one though.
Working Man Soap is amazing !
First off, let me say the smell of this soap is marvelous !!! Sweet orangy notes and lemon, yet not overpowering and perfumy, all while really getting the dirt and oil off of my husbands hard working hands !! I love it for exfoliation in the shower !!! Wonderful product. Will be a staple in our house !
Great soap that feels and smells great
love this soap. I have reordered several times. the soap smells great and with the rough exfoliating bits embedded into the bar, it has become my favorite. Highly recommend this soap!