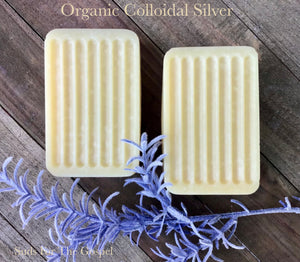 About: Goat's milk works for all skin types and has multiple benefits. In addition to lactic acid, goat milk contains fatty acids that help repair the skin barrier, probiotics to encourage the growth of normal skin flora, and vitamin A to help gently exfoliate. Those fatty acids also contribute to noticeably softer skin. Pair this with the power of the antimicrobial/antibacterial ingredients Colloidal Silver, clove, rosemary, eucalyptus and lemon essential oils and you have a wonderful, lightly fragrant soap that leaves you squeaky clean.
Clove Bud Essential Oil:  antimicrobial and kills bacteria

Rosemary Essential Oil:  antimicrobial and helps with inflammation
Eucalyptus Essential Oil:  antiseptic and antimicrobial as well as a natural moisturizer

Lemon Essential Oil:  antibacterial and detoxifying
Weight: 5.8 Oz.
Ingredients: Organic Coconut Oil, Organic Olive Oil, Organic Canola Oil, Organic Avocado Oil, Organic Castor Oil, Organic Mango Butter, Organic Shea Butter, Sodium Hydroxide, 10 PPM Colloidal Silver Hydrosol, Organic Goat Milk, Distilled Water, Organic Clove Bud Essential Oil, Organic Rosemary Essential Oil, Organic Eucalyptus Essential Oil, Organic Lemon Essential Oil
Phthalate Free
Paraben Free
Sulfate Free
Cruelty Free
Propylene Glycol Free
Mineral Oil Free
Non-GMO
Gluten Free
Organic Ingredients
Handmade
Wholesome Products
I found this company one day while surfing FB. I stopped an viewed the site and was so taken by the service that's being shared & the name. I placed a decent size order not knowing what the products would be like. I was so happy with everything due to the fact they are made with great quality ingredients and the benefits from the ingredients for our skin. That's was 2022. I placed my 2nd order of soaps, candles, facial oil and scalp oil. Some are for gifts and some for me😊. I love the aroma.. not overwhelming just the right scent. I love everything & will continue to order.
Colloidal silver soap with clove
Bought for hubby. He loves it.