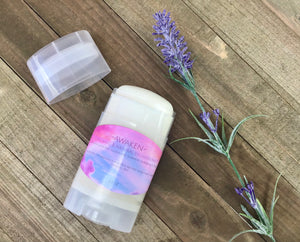 About: The original and best deodorant is making a comeback here at Suds For The Gospel!
This deodorant is completely organic and natural and smells AMAZING!

One swipe is all you need for all day freshness!

Made with ingredients to compliment even the most sensitive skin.

Organic Arrowroot Powder: A starch derived from various tropical plants and used as a replacement for baking soda. Baking soda is a basic ingredient that can change the pH of your underarm skin and cause skin darkening and clogging of pores and lymph nodes.

Organic Mango Butter: Mango Butter contains essential fatty acids and antioxidants that make it a wonderful choice for mature skin as well. The rich, nourishing nature of this butter can even help benefit those suffering from skin conditions such as eczema or psoriasis.

Organic Coconut Oil: Antibacterial, antifungal and antiviral are just some of the wonderful benefits of coconut oil. It is also moisturizing, reduces inflammation, and can help skin conditions such as eczema.

Organic Beeswax: Beeswax conditions, soothes, and calms the skin. It exfoliates, repairs damage, promotes the skin's regeneration, diminishes the appearance of the signs of aging, soothes itchiness and irritation, and creates a hydrating, long-lasting protective barrier against environmental pollutants.

Non-Nano Zinc Oxide: In sunscreens non-nano zinc oxide is particularly beneficial because it provides broad-spectrum protection, blocking both UVA and UVB rays and is safer than chemical alternatives like oxybenzone. Non-nano zinc oxide is also a natural and pregnancy safe odor solution and thus scores double points for usefulness.

An AAAAH-mazing blend of Lavender, Eucalyptus, Cedarwood, Tea Tree and Rosemary & Lemon Organic Essential Oils makes this a scent suitable for women and men!

Weight: 2.5 Oz.
Ingredients: Organic Beeswax, Organic Coconut Oil, Organic Mango Butter, Organic Vitamin E, Organic Arrowroot Powder, Non-Nano Zinc Powder, Organic Lavender, Eucalyptus, Cedarwood, Tea Tree, Rosemary and Lemon Essential Oils
Awaken Organic Natural & Refreshing Deodorant
I love this deodorant. It goes well with my body chemistry.
I wonder if you could do a cucumber/melon deodorant as well? I am very happy.
LOVE THIS!
This Deodorant smells so Natural & Exquisite and it feels Nice! I get alot of compliments when wearing this deodorant😊
Deodorant
For me personally, there is something about the scent that I don't like, not sure of which one it is.
Hi Donna! I'm sorry you're not happy with the scent. Sometimes our body chemistry changes the scent of a product from how it smells after applying it. Thank you for trying it and also for supporting this ministry. I do hope you're happy with the other products you've purchased. Thank you for the review.
We LOVE this silky stick!
I bought two of these and I absolutely love the formula.
Gave one to my adult son and he says he is impressed as well.
Would love to see this in a lemongrass/citrus scent.
SMELLS GREAT
IT SMELLS SO GOOD.GREAT PRODUCT. BUT UNFORTUNATELY IT DOES NOT AGREE WITH MY BODY CHEMISTRY AND MAKES ME SMELL TERRIBLE