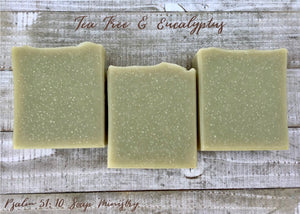 About: A classically clean and refreshing bar with healing and rejuvenating Tea Tree and Eucalyptus essential oils. 


Tea Tree Essential Oil

 can help soothe dry skin 

by reducing itching and irritation and is an excellent treatment for eczema. It also helps to alleviate oily skin problems without drying out the skin. Tea Tree Essential Oil is also High is anti-fungal and antibacterial properties.

Eucalyptus Essential Oil is well known for its anti-inflammatory properties as well as being rejuvenating to the senses.
Weight: 5.0 ounces
Ingredients: Organic Coconut Oil, Sunflower Oil, Organic Sweet Almond Oil, Organic Castor Oil, Organic Sustainable Palm Oil, Organic Mango Butter, Kaolin Clay, Sodium Hydroxide (lye), Distilled Water, Organic Tea Tree Essential Oil, Organic Eucalyptus Essential Oil, Organic Spirulina Powder
Phthalate Free
Paraben Free
Sulfate Free
Vegan
Cruelty Free
Organic Ingredients
Made in USA